⭐️ FALL SALE ⭐️
EXTRA 15% OFF w/code 'FALL15'
SHIPS SAME-DAY | FREE RETURNS | LIFETIME WARRANTY
GET A FREE PURPLE CHESHIRE GLASS CHARMBALLA BRACELET
WITH ORDERS OVER $100 USD ( $58 USD VALUE)
EXPRESS SHIPPING TO JAPAN AVAILABLE AT CHECKOUT
⭐️ FALL SALE ⭐️
EXTRA 15% OFF w/code 'FALL15'
SHIPS SAME-DAY | FREE RETURNS
LIFETIME WARRANTY
GET A FREE
PURPLE CHESHIRE GLASS CHARMBALLA BRACELET
WITH ORDERS OVER $100 USD ( $58 USD VALUE)
EXPRESS SHIPPING TO JAPAN AVAILABLE AT CHECKOUT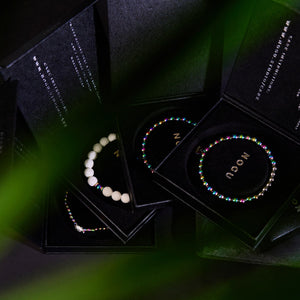 UNICORN SILVER™
Do you believe Unicorns? We do. And we're obsessed. 
After months of testing and working with new dichroic plating methods normally used only in glass, we've developed The Unicorn Silver™  Collection. What is this rainbow magic you ask? We create a vivid spectrum of colors by passing electricity through our beads at just the right frequency to produce a light-refractive oxide on the metal's surface. It's a finish that never rubs off because it's not a finish at all. It's the metal having changed permanently. 
It's like rainbow unicorn magic. Literally.